Casey Anthony Trial: Brother Lee Anthony Says Family Ignored Pregnancy Until Birth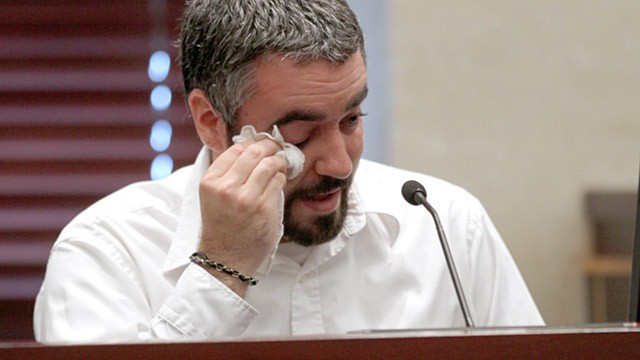 Lee Anthony wipes away tears as he testifies in the murder case against his sister Casey Anthony at the Orange County Courthouse in Orlando, Fla. on Friday, June 24, 2011. (Red Huber/Orlando Sentinel)
By
JESSICA HOPPER
June 24, 2011
Casey Anthony's brother testified today that her family ignored her pregnancy even after she was visibly showing in the seventh month and he said no one acknowledged the pregnancy until days before Caylee was born.
The testimony by Lee Anthony was the latest effort by Casey Anthony's lawyers to depict a dysfunctional family that ignored the obvious at times.
Casey Anthony, 25, is accused of murdering her 2-year-old daughter, Caylee, and could face the death penalty if convicted. Defense lawyers have argued that Caylee drowned in the family pool, and her mother didn't tell anyone.
Lee Anthony told jurors that he confronted his mother once about his sister's pregnancy, but it was never fully discussed until a few days before Casey Anthony gave birth in August 2005.
The brother started crying on the stand when he told the court why he wasn't present at Caylee's birth.
"I was very angry at my mom and I was also angry at my sister," breaking into tears on the stand. "I was just angry at everyone in general that they didn't want to include me and didn't find it important enough to tell me, especially after I had already asked. So I was very hurt."
New evidence photos of Caylee Anthony in the family pool
It's unclear how the testimony fits into the defense's strategy. After a series of sidebars today over the admission of Anthony family pictures, Judge Belvin Perry bluntly told defense attorney Jose Baez that his tactics were confusing.
"So what is your theory of the defense because you cannot use a broad blanket of the theory of the defense to just get any and everything…if your theory of the defense is ever changing, maybe you just simply need to tell me what your theory of the defense is," a frustrated Perry said.
The defense shocked the courtroom during opening statements by saying that Caylee drowned in the family pool on June 16, 2008, 31 days before she was reported missing. They claim that George Anthony, Casey Anthony's father, helped dispose of the body and that years of alleged sexual abuse by him intimidated Casey Anthony into keeping the secret about her daughter's death. They also claimed that Lee Anthony carried on an inappropriate relationship with his sister too.

So far, they have not introduced evidence of sexual abuse or that George Anthony helped get rid of the body. George Anthony has denied both accusations.
Since the defense began calling witnesses last week, they have focused on forensic evidence and not the claims made in opening statements, making it difficult to discern where the defense team is going with their case.
When the judge paraphrased the opening statements, asking Baez if that was still the defense strategy, Baez responded, "Among other things, yes."
Today's testimony is the first day that the defense has focused on the Anthony family dynamic. It seems to have taken an emotional toll on Casey Anthony, her mother and her brother.
Lee Anthony sobbed at the stand in the midst of relaying his anger about being snubbed during Caylee's birth. His emotion flared Casey Anthony's emotions so strongly that her attorney attempted to block her from the view of the camera. Baez kneeled down to comfort the young mom when the jury recessed for lunch.
Earlier this morning, Cindy Anthony and her daughter Casey Anthony cried as they watched a video of a giggling 2-year-old Caylee Anthony playing with her mother and saw pictures of the toddler in the family swimming pool.
Home video of Casey Anthony playing with daughter Caylee
The Florida woman's defense team called
Cindy Anthony
, who is Casey's mother and grandmother to Caylee, to the stand for a second day in a row. On Thursday, she gave bombshell testimony that she -- not her daughter Casey -- had
searched for chloroform
on the family's desktop computer.
Cindy Anthony wiped tears from her eyes with a tissue as she watched the video of Caylee bouncing on Casey Anthony's legs as the young mom laid on the floor. Both
Casey Anthony
and Caylee were smiling in the video.
The video from April of 2007 showed Caylee in the same shorts that
were found tattered with her remains on Dec. 11, 2008.
When asked for proof that the video was taken in 2007, Cindy Anthony said, "I watched that video hundreds of times since I haven't seen Caylee in 2008 and there's still pictures of me holding Caylee on the same day and I recall the skirt [I was wearing]," she said.
A visibly upset Cindy Anthony was rocking on the witness stand, taking deep breaths and rubbing her neck to try and stop the tears.
At one point, defense attorney Jose Baez even asked her if she needed a break.
She said, "No, I'm all right."
The defense seems to be pointing out that the shorts were too small for Caylee when she disappeared in the summer of 2008 because she had grown significantly.
Upon cross examination, Cindy Anthony said that Caylee was pretty much potty trained and wasn't always wearing a bulky diaper under her shorts.
Jurors also looked at pictures of the Anthony family pool and the removable ladder used to climb into the pool. The defense argues that Caylee accidentally drowned in the pool on June 16, 2008.
Both Casey and Cindy Anthony cried as pictures of Caylee wearing a bright yellow life vest and purple bathing suit were shown as she climbed up the pool ladder with the help of her grandmother.
"It's a picture of Caylee walking up the ladder and I'm behind her and holding her...My hands are on her but not firmly…just like a light touch," Cindy Anthony said.
The family took precautions, buying new life vests as Caylee outgrew each one. They also removed the pool ladder after each swim and moved a pool deck box when Caylee grew big enough to bother it.
"We also made sure that we taught Caylee that she had to be with us, one of us, to go into the pool," Cindy Anthony said.
As Caylee got older, she sometimes was impatient to wait for family to guide her into the pool.
"For the most part, she would just sit there and wait for us. Occasionally, especially as she got older, she was a lot more anxious because she was more familiar with the pool..she would run," Cindy Anthony said.
One photo showed Caylee in a pink printed dress looking out a sliding glass door that led out to the pool, intended to show that Caylee could have opened the door and gotten to the pool on her own.
Cindy Anthony told jurors that Caylee went swimming frequently in June, the month she disappeared. She also said that on June 16, 2008, the day that the defense claims Caylee drowned, the pool ladder was up when she came home from work.
"I called George at work to see if he had left the pool ladder up because I also noticed that the side gate was open at the same time," she said.
She told coworkers the next day about her ladder mysteriously being up on the pool.
This morning was plagued with several side bars. One of the them involved the defense's wish to submit a picture of a pregnant Casey Anthony at a family wedding.
The prosecution also successfully objected to a line of questioning about whether Cindy and George Anthony were having problems in their marriage when Caylee disappeared.
The prosecution argues that Casey Anthony murdered her daughter with chloroform and duct tape. Caylee was reported missing on July 15, 2008, 31 days after she was last seen alive.
http://abcnews.go.com/US/casey-antho...ry?id=13922158